Day 1 :
Keynote Forum
Graz University of Technology, Austria
Time : 10:00-10:40

Biography:
Christian Baumgartner is a Professor and Head of the Institute of Healthcare Engineering with European Testing Center of Medical Devices at Graz University of Technology, Austria. He is the author of more than 150 publications in refereed journals, books and conference proceedings. He is a Reviewer for more than 40 scientific journals, and conference proceedings, book and grant proposals and serves as deputy and series Editor as well as an Editorial Board Member of several scientific journals. His main research interests include "Biomedical sensors, cellular electrophysiology and signal processing, biomedical modeling and simulation, and clinical bioinformatics"
Abstract:
A new optical, adaptable, multi-functional, high-resolution three-axis sensor is presented. The sensor can replace standard joysticks in medical devices such as electric wheelchairs or surgical robots and may also serve for navigation in the aerospace or marine sector. A laser diode is affixed to a movable axis and projects and interprets a random geometric shape on a CMOS or CCD chip. The downstream microcontroller's software identifies the geometric shape's center, distortion and size, and subsequently calculates x, y, and z coordinates, which can be processed in attached devices. Depending on the image sensor in use (e.g., 6.41 megapixels), the 3-axis sensor features a resolution of 1544 digits from right to left and 1038 digits up and down. Through interpolation, these values rise by a factor of 100. The movement carrier is positioned in a polymer sandwich which is capable of absorbing a large spectrum of forces upon it (approximately 1 g to 5 kg) and the carrier and thus the axis of the sensor can be moved by <1° in any direction. The sensor features excellent reproducibility in terms of deflection to coordinates and the ability to return to its neutral position very precisely. Further properties are the high level of protection against electromagnetic and radio frequency interferences, and the adaptability and adjustability to fit a user's range of motion with respect to stroke and force. This new sensor device thus aims to optimize sensor systems such as joysticks in terms of safety, ease of use, and adaptability.
Keynote Forum
Bundeswehr Institute of Radiobiology, Germany
Time : 11:00-11:40

Biography:
Michael Abend completed his Medical doctor degree at University of Cologne; a Professorship in Radiobiology at Technical University Munich and; studied Epidemiology at Gutenberg University in Mainz, Germany. He worked at different Institutions such as: Armed Forces Radiobiology Research Institute, Bethesda and National Cancer Institute (Radiation Epidemiology Branch), Rockville, USA. He received several scientific awards and published about 100 peer reviewed scientific papers. He is currently a Deputy Director and Leader of Genomic department at Bundeswehr Institute of Radiobiology
Abstract:
We aimed to predict occurrence of hematological acute radiation syndrome (HARS) and its severity based on early detected changes in gene expression. Using peripheral blood from baboons irradiated with 2.5 or 5 Gy (whole body equivalent dose), we examined changes in gene expression occurring one and two days after exposure in relation to unexposed blood samples (pre-exposure samples). Utilizing whole genome microarrays and validating candidate genes with qRT-PCR finally allowed us to identify a set of 29 baboon genes forwarded for cross-species validation using human samples. Within this presentation, we will provide first results on this cross-species validation and share preliminary results on our envisioned 1,000 sample exercise to examine the feature of high-throughput diagnostic of the HARS using gene expression
Keynote Forum
SensDx Ltd, Poland
Time : 11:40-12:20

Biography:
Dawid Nidzworski is an Entrepreneur and Scientist. He completed his Graduation at Faculty of Chemistry, Gdansk University of Technology (GUT), Poland and Intercollegiate Faculty of Biotechnology of the University of Gdansk and Medical University of Gdansk (IFB UG-MUG). He also completed his PhD at IFB UG-MUG. He developed biosensor (FluSensDx) which will identify influenza virus in the patient's throat swab. He is also working on an edible vaccine against influenza virus for poultry (LIDER). He has received many awards and scholarships. He is Co-author of several publications, congress reports and patent applications. His start-up company SensDx will revolutionize the way of medical diagnostics in the world
Abstract:
Influenza is a contagious disease caught by humans and caused by viruses belonging to the family Orthomyxoviridae. Each year, the influenza virus infects millions of people and kills hundreds of thousands of them. Economic losses caused by employee absenteeism are counted in the hundreds of millions of dollars a year. In order to successfully treat influenza virus infections, it is necessary to detect virus during initial development phase of the infection when tens to hundreds of viruses are present in pharynx of the patient. Here, we show a new universal diamond biosensor which enables detection of the virus at ultralow concentration even before clinical symptoms. A diamond electrode is modified with polyclonal anti-M1 antibodies and then a universal biomarker of influenza virus – M1 protein can be captured. In this assay, we observe a change in electrochemical impedance spectra. A detection limit of 1×10-14 g/mL in saliva buffer is achieved with M1 biomarker corresponds with 5-10 virus particles in samples. Also the universality of the assay was confirmed analyzing different strains of influenza A virus.
Biosensors & Biomarkers
Bioelectronics
Typer of Biosensors
Biosensing Technologies
Nanotechnology in Biosensors
Enzymatic Biosensors
Environmental Biosensors

Chair
Hiroyuki Takei
Toyo University, Japan

Co-Chair
Chirasree R Chaudhuri
Indian Institute of Engineering Science & Technology(IIEST), India
Session Introduction
Loughborough University, UK
Time : 12:30-13:00

Biography:
Mark Platt completed his Graduation and PhD at University of Manchester. He has developed an interdisciplinary research team investigating nanomaterial synthesis, characterization and electroanalytical sensors. He is currently a Senior Lecturer in Analytical Science developing portable diagnostic technologies via the integration of nanomaterial's, fluidics and aptamers into nanopore sensors. He has published more then 35 peer review papers, and is a member of East Midlands Biomedical Research Unit–Diet, lifestyle and physical activity and an academic member of Collaboration for Leadership in Applied Health Research and Care, East Midlands.
Abstract:
Point-of-need analytical devices have important applications in environmental, food security, forensic, biological warfare and the outbreak of contagious disease. Such sensors save time, overheads and lives, and to meet this demand a variety of technology platforms have emerged. Nanopore technologies offer single particle analysis, being used to sequence DNA, detect proteins, cells or nanomaterials. They even offer controlled and preferred ion flow enabling current rectifiers and ion sensors. Changing the size, length and shape of the pores has enabled a range of analytes to be quantified and characterised. Here, we present some of our recent work developing multiplexed assays using aptamer modified nanomaterials and pores to compare the use resistive pulses or rectification ratios on a tunable pore platform. We compare their ability to quantify the cancer biomarker Vascular Endothelial Growth Factor (VEGF). Secondly, by tuning the ligands and the setup, we then show how the translocation speed, conductive and resistive pulse magnitude, can be used to infer the surface charge of a nanoparticles, and act as a specific signal transduction for the binding of metal ions to ligands on the particles surface, used to extract and detect copper (II) ions (Cu2+) from solution. Finally, we show data from samples that contain bacteria and bacteriophage and strategies to quickly quantify them.
ANSES-Laboratory of Fougères, France
Time : 13:45-14:15

Biography:
Valerie Gaudin completed her MSc in Veterinary Pharmacy and Biochemistry and has 20 years of experience as a Government Analytical Biochemist. She has completed her PhD in 2016 at Rennes University, France. She is a Senior Analytical Biochemist at ANSES- Laboratory of Fougères, France. She is responsible for a number of research projects in the areas of antibiotic residues, veterinary medicines, and emerging bio-sensor techniques. She has published more than 26 peer reviewed papers based on microbiological methods, ELISA kits and biosensors
Abstract:
Antibiotic residues may be present in foodstuffs (e.g., milk, meat, eggs, etc.) after treatment of livestock. The first stage of food control is carried out through screening methods. Thus, routine detection of antibiotic residues with high sensitivity is central for food safety. Conventional screening methods are microbiological or immunological methods (e.g., ELISA). Biosensor type methods are in continuous development to improve the performance and portability of screening methods. Our laboratory has worked on the evaluation of screening methods developed from optical biosensors. Now, we focus on electrochemical biosensors which are a promising way to develop cost-effective and portable screening methods. To date, this track is not developed by any other laboratory from those in the field of antibiotic residue testing. An innovative method based on disposable electrodes, coupled to magnetic beads, allowing the electrochemical detection in milk of three families of antibiotics simultaneously was published by a Spanish academic team. Our laboratory will evaluate the transferability of the method. The optimization of the analytical parameters and the evaluation of the method performance according to the European decision 2002/657/EC (2002) will be presented here. Advantages and drawbacks in developing this type of electrochemical biosensors for the detection of antibiotic residues in food will be concluded.
Toyo University, Japan
Time : 14:15-14:45

Biography:
Hiroyuki Takei completed his PhD in Applied Engineering Physics at Cornell University in 1992. Since then, he has been affiliated with various organizations such as Hitachi Ltd. (Electronics), Lamdagen LLC (Biosensor start-up in silicon valley), Fujirebio Inc. (Medical Diagnostics), and Tokyo Medical and Dental University. Since 2009, he has been Full Professor in Department of Life Sciences at Toyo University, Japan. His main research interest has been in the field of "Biosensing and analytical techniques based on plasmonics".
Abstract:
Plasmonics is expected to play a growing role in biosensing and environmental monitoring. It is in the area of localized surface plasmon resonance sensing and surface-enhanced Raman/fluorescence spectroscopies where there is much expectation. It is crucial to develop techniques for producing requisite nanostructures reproducibly at low costs. Toward this end, we are working on a number of different techniques. One is based on metal film on nano-spheres (MFON) where randomly-adsorbed SiO2 nano-spheres are used as a template. The second method is a chemical method whereby base metal nanoparticles are used as seed for growing silver nano-structures from AgNO3. The third method is based on exploitation of naturally existing nanostructures such as butterfly wing scales; scales coated with Ag have been shown to be an effective SERS platform. We will discuss pros and cons of these three fabrication techniques. Furthermore, the method of detection protocols is important. We have been working on different configurations. One is intended for in-situ detection of target molecules on a solid surface, such as residual pesticides on agricultural produces as well as identification of chemical evidence at a criminal scene. With this in mind, we have prepared a flexible surface coated with noble metal nanostructures, calling it FlexiSERS. Placing FlexiSERS onto a surface allows in situ SERS identification of the chemical species on the surface. We have also combined a SERS surface with thin layer chromatography, TLC-SERS. This has allowed detecting Raman-active species in the complex medium such as food.
University of South Australia, Australia
Time : 14:45-15:15

Biography:
Alex Hariz completed his MS in 1983 and PhD in 1989 in Department of Electrical Engineering at University of Southern California. He then completed his Post-doctoral fellow position in Department of Physics at Simon Fraser University in Canada. He joined the University of South Australia in 1992, and is currently a Senior Lecturer in School of Engineering, teaching courses such as electronic devices, linear electronics, integrated circuits, and MEMS. His research activities include "Silicon microelectronics, micro-engineering of inertial sensors, micro-optics and fabrication of bio-MEMS sensors for use in biomedical applications". He is an Editorial Board Member of Journal of International Decision Technologies.
Abstract:
Measurement of small signals originating from ionic activity inside a biological cell known as action potential, poses a great challenge to biomedical scientists. The electrical signals of the biological cells result from exchange of ions through the cell membrane. The characteristics of action potentials may reveal a great deal of information about the causes and symptoms of abnormal cell behavior. Hence, it is imperative to capture high quality action potentials through the use of nanosensor from within the cell. Recently, developments in silicon nanowires (SiNW) fabrication techniques have demonstrated a great potential for them to be used as nano-electrodes. Large-scale assembly and integration of addressable complementary silicon nanowires arrays have been demonstrated for multiplexed biosensor arrays. The fabrication process resulted in a high-yield, high performance devices arrays for chemical and biological detection. In this paper, we seek to model the electrical interface that is responsible for recording the biological signals. We present electrical equivalent circuits that model the boundary between the biological cell and the nanowire electrode. Impedance measurement curves of nanowires for various sizes of length and diameter have also been presented and discussed in this paper. The impedance graphs show a hyperbolic dependence of resistance on length and diameter of nanowires. This non-linear behavior may be mitigated in software algorithms when interpreting the measured cell signals. We believe that the proposed electrical model will lead to a more accurate characterization of NW biosensor arrays which are now integrated on disposable PCB interfaces. It will potentially evolve the sensor arrays into a controllable and scalable nanowire biosensor platform for clinical and point-of-care diagnostic applications in the near future.
Federal University of Pernambuco, Brazil
Time : 15:30-16:00

Biography:
Rosa F Dutra is a Professor in Department of Biomedical Engineering at Federal University of Pernambuco. She is an Electronic Engineer, completed her Master's in Biomedical Engineering, PhD and Post-doc in Biotechnology. Her research is focused on immuno-sensors, geno-sensors, biomimetic sensors, surface modification, synthesis and functionalization of nanomaterials developing several platforms for measuring biomolecules interaction, using acoustics, optical and electrochemical transducers, focusing in the point-of-care testing. She has supervised more than 25 post-graduate students and nowadays, she coordinates four great health research projects.
Abstract:
Statement of the Problem: Wide-scale point-of-care diagnostics systems hold great promise for economic, rapid and practical diagnosis of several diseases, benefiting those with high morbimortality rates. Electrochemical biosensors using amperometric transduction have several advantages as compared to optical and acoustical transductions due to their ease scale up, fast response and low cost connection with compact (hand-held) analyzers. However, several drawbacks on performance have limited their large use in clinical diagnostic. The purpose of this study is to describe some strategies of sensor platforms using conducting polymer integrating carbon allotropes including carbon nanotubes, graphene and fullerene, in order to overcome challenges required as a low limit of detection and a good reproducibility.
Methodology & Theoretical Orientation: Different nanocomposites were electro-synthetized by using a mixture of the respective carbon allotrope and monomers of conductive polymer (pyrrole, thiophene, ethylenediamine, etc.). Afterwards, antigen or antibodies were covalently immobilized on the sensor surface, followed by blocking of non-specific bindings.
Findings: It was observed that the synergism between these materials (conductive polymer and carbon allotrope) has increased the electron transfer charge, electrode surface area, amount of immobilized biomolecules, faradaic current and conductivity; besides, the functionalized nanomaterials have also promoted covalent immobilization and exposure of reactive sites to analytes. Cardiac troponin T, dengue, hepatitis and degenerative disease were the analytes detected in these immuno-sensors.
Conclusion & Significance: Label-free and redox probe-free responses using amperometric electrochemical technique for detecting analytes in serum and whole blood was obtained. The analytes were found at clinical range of relevance for diagnosis of corresponding diseases. These prospective sensors are potentials for point-of-care testing with ease scale-up and greater performance.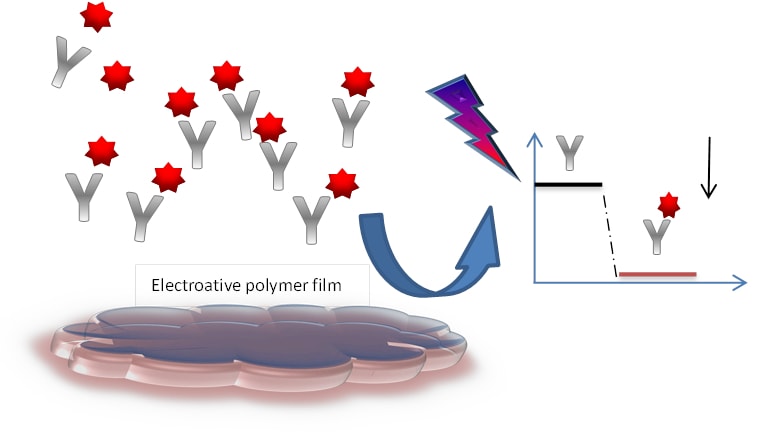 Agricultural Research Organization, Volcani Center, Israel
Time : 16:00-16:30
Biography:
Giorgi Shtenberg completed his PhD in 2014 in Biotechnology and Food Engineering at Technion–Israel Institute of Technology. He has expertise in Nanomaterials, Semiconductors, Microfluidics, Photonics and Biological Interfaces for biomedical and environmental monitoring applications. He is currently a Scientist and Head of Bio-Nano-Laboratory at Institute of Agriculture Engineering, ARO-The Volcani Center. He is focusing on the development of novel biosensors/bioassays that will transform from a laboratory-based research into real on-site "lab-on-chip" platforms for addressing problems in fields of agriculture, animal diagnostics, food safety and environmental monitoring and detection.
Abstract:
This work presents a generic integrated biosensing platform for real-time optical monitoring of heavy metal pollutants in water bodies by enzymatic activity inhibition. Optical studies exhibit high specificity and sensitivity towards three metal ions (Ag+>Pb2+>Cu2+), with a detection limit of 56 ppb. Additionally, we demonstrate detection and quantification of metal pollutants in real water samples (e.g. surface and ground water) with results comparable with gold standard analytical techniques, such as inductively coupled plasma atomic emission spectroscopy (ICP-AES). The main advantage of the presented biosensing concept is the ability to detect heavy metal ions, at environmentally relevant concentrations, using a simple and portable experimental setup, while the specific biosensor design can be tailored by varying the enzyme type.
Indian Institute of Engineering Science and Technology (IIEST), India
Time : 16:30-17:00

Biography:
Chirasree Roy Chaudhuri has completed her PhD in 2007 at Jadavpur University, India and is presently an Assistant Professor in Department of Electronics and Telecomm Engineering, IIEST Shibpur, India. Her fields of research interest are "Development of selective electrical biosensors, understanding the physical mechanisms for sub-femtomolar detection and measurement of biophysical properties of cells through distributed models". She has received Young Scientist Award from National Academy of Science, India and Women Excellence Award from Department of Science and Technology, Government of India and has published around 60 papers in peer reviewed journals and proceedings.
Abstract:
Various nanostructures like nanowires, nanotubes and nanopores have been extensively explored for label free conductance type biosensors and also for detection of a single molecule in synthesized solutions. However, their major limitation is that the detection limit of biomolecules in physiological fluids like blood is only in the range of few pM. There have been several attempts to push down the detection limit by performing the noise analysis of the conductance fluctuation. But it has failed to differentiate the noise originating due to the specific antibody-antigen binding kinetics from the large magnitude of the device noise for fM or sub fM concentrations. This talk explores the physical origin behind this phenomenon and introduces closed solid state nanopore array as a novel device for ultrasensitive detection. The device is fabricated by electrochemical etching of silicon followed by annealing treatment for coalescence of small pores below 10 nm diameter (usually formed on the top) and subsequent thermal oxidation. This ensures stable and reproducible impedance measurements. Experimental observations reveal the unique presence of resonant peak in the frequency dependent characteristics only in the presence of specific antigen. Further this peak is also concentration dependent and combining the noise analysis at the resonant frequency has enabled the selective detection of Hep-B virus in blood samples down to 1 fM concentration. The physics behind these observations have been interpreted by coupling finite element modeling of the solid and the fluid regions.

Biography:
Laura Moro is a Biotechnologist, completed her MSc in Biomedical Research, PhD in Medicine at University of Barcelona, Spain. She is currently a Marie Curie Post-doctoral Researcher within the Sample In-Answer Out Optochemical Sensing Systems (SAMOSS) Network at Biosensor Srl (Rome, Italy). Her research is focused on "The development of novel biosensing technologies for different biomedical, environmental and agrifood applications with the final aim of improving global health".
Abstract:
Increasing pollution of marine environment requires development of sensitive, cheap and adaptable early warning systems for on-site monitoring of chemical contaminants. Herein, we present an optical bioassay exploiting an array of green photosynthetic microalgae as a promising alternative for monitoring seawater pollutants, which can provide rapid and quantitative toxicity information while assessing the harmful effect on marine ecosystems. For bioassay optimization, several microalgae species from Chlorophycea, Trebouxiophycea, dinoflagellates, diatoms and Eustigmatophycea groups with different marine and non-marine origins were studied in marine environmental conditions. The lipid content of selected species was analyzed, since lipids have been proposed to be involved in protection mechanisms against salt stress. The fluorescence response of the algae photosystem II was examined in real-time in the presence of three commonly found marine pollutants that act as photosynthesis inhibitors: simazine, diuron and irgarol. Algae from marine origin were discarded because of their low fluorescence response. The chemical pollutants were tested alone or in combination in a seawater matrix with non-marine algae species, and results validated by LC-MS. Pesticides were detected in seawater samples in the ng/L- low µg/L range, and a synergistic effect was observed when analyzing pesticide mixtures. The different algae species showed slightly diverse sensitivities for the three pollutants, being Chlorella mirabilis the most sensitive with a limit of detection of 67 ng/L for diuron. Therefore, a green microalgae-based bioassay was successfully developed for real-time monitoring of marine water quality and evaluation of bio-toxicity by the fluorescence analysis of photosystem II
University of Santiago de Compostela, Spain

Biography:
Daniel Nieto works as a Researcher at University of Santiago de Compostela. He completed his Doctoral studies at University of Santiago de Compostela. Previously, he was a Marie-Curie Fellow (ITN) at National University of Ireland where he completed his Master's in Experimental Physics. He has worked as a Project Manager at IK4-CIDETEC and has done several Post-doctoral researches on Tissue Engineering at Harvard University and National Center for Laser Applications, National University of Ireland.
Abstract:
Electro stimulation oriented to medical applications is an electric current induced method used for excitation and activation of certain organs and systems of the human body. Although many organs and systems can be stimulated by electric currents by adequate methods and techniques applied, the most widely practiced application is heart electro stimulation. Aside from this therapy, where the electric pulses are applied directly to the patient, electro stimulators are used in medical investigation as a tool to induce electric signals in cell cultures simulating different body conditions. In this method, electro stimulator must be carefully designed to work in a very specific circumstance. The device usually consists in two electrodes in direct contact with the cell culture, where the electric stimulus is induced by applying a voltage between them. They must be biocompatible to avoid toxic reactions in the culture and they also must efficiently transfer the charge to the medium in order to minimize the electrode degradation. In this work, we present a laser based fabrication process of fabricating an electro stimulator for cardiac cells on a 200 nm aluminum film deposited by physical vapor deposition over a soda-lime glass. By using laser techniques, the aluminum film was selectively removed to obtain a pre-designed electric circuit which is able to apply electric stimulus in an area delimited by a polydimethylsiloxane (PDMS) layer over the circuit. In order to avoid direct contact between the circuit and the cell culture, a 100 μm glass is placed between them. The electro stimulator was then assembled between two polycarbonate layers in order to maintain the device compact.
Case Western Reserve University, USA

Biography:
Giuseppe Strangi is a Professor of Physics at Case Western Reserve University and holds an endowed Chair position as Ohio Research Scholar. He is affiliated with IAM-Institute for Advanced Materials at CWRU and with CNR-National Research Council, Italy. He is Co-Chair of the scientific initiative "From Life to Life" National Academy of Lincei, and President of the scientific committee of the Foundation "Con il Cuore", a national foundation to support cancer research in Europe. He completed his PhD at University of Calabria.
Abstract:
Optical sensor technology offers significant opportunities in the field of medical research and clinical diagnostics, particularly for the detection of small numbers of molecules in highly diluted solutions. Several methods have been developed for this purpose, including label-free plasmonic biosensors based on metamaterials. However, the detection of lower-molecular weight (<500 Da) biomolecules in highly diluted solutions is still a challenging issue owing to their lower polarizability. In this context, we have developed a miniaturized plasmonic biosensor platform based on a hyperbolic metamaterial that can support highly confined bulk plasmon guided modes over a broad wavelength range from visible to near infrared. By exciting these modes using a grating-coupling technique, we achieved different extreme sensitivity modes with a maximum of 30,000 nm per refractive index unit (RIU) and a record figure of merit (FOM) of 590. We report the ability of the metamaterial platform to detect ultralow-molecular-weight (244 Da) biomolecules at picomolar concentrations using a standard anity model streptavidin–biotin.
Istituto Italiano di Tecnologia, Torino, Italy

Biography:
Valentina Margaria completed her Graduation in Medical Biotechnology at University of Torino in 2003. In 2007, she completed her PhD in Complex System and started to work on Bio-MEMS at Techfab Srl. In 2010, she took part in Global Solution Program organized by Singularity University at NASA Ames Research Park, whose mission is to deal with, and solve, humanity's grand challenges using exponentially developing technologies. Currently, she is a Senior Post-doctorate at Center for Sustainable Future Technologies, Polito, where she is working on "Microbial fuel cells improvement through the integration of biology with new materials and design".
Abstract:
Water scarcity and poor water quality negatively impact food security, livelihood choices and educational opportunities across the world. For these reasons, access to clean water is one of the 17 goals defined by United Nations. The development of innovative and cost effective systems for long term and in-situ freshwater quality monitoring is fundamental to provide access to clean water. Microbial Fuel Cells (MFC) are bio-electrochemical systems able to convert the chemical energy stored into the organic matters into electrical energy, therefore, they can simultaneously treat wastewater and produce energy. More recently, increasing attention has been paid to the potential use of MFCs as sensors for in-situ water quality monitoring. The current generated by MFCs directly reflect the metabolic activity of the anodophilic electroactive bacteria. Thus, the presence of a toxicant in the anolyte can affect the microbial metabolism with consequent changes in the current generated. In particular, in MFC-based biosensor the sensing element does not need a physical transducer to obtain a readable signal (electrical power). Moreover, MFC-based biosensor is an early detector; it is simple in operation and can be highly cost effective. These unique characteristics perfectly meet the requirement for long-term in situ sensing application. Focusing on the development of real in situ application at CSF-IIT, we are investigating the biosensing capability of a mixed community biofilm directly coming from river sediment and in equilibrium with the environment.
Rovira i Virgili University, Spain

Biography:
Josep Lluís Acero Sánchez completed his MSc in Nanoscience and Nanotechnology in 2007 and PhD in Nanoscience, Materials and Chemical Engineering in 2017 at Rovira i Virgili University, Spain. He is currently working as Researcher and Project Manager in Nanobiotechnology and Bio-analysis Group at Rovira i Virgili University. He has specialization in "The development of ultra-sensitive optical and electrochemical immuno- and genosensors for medical, environmental and food sciences". In 2015, he was awarded with a TECNIOspring fellowship to develop and integrate platform for the isolation and analysis of cell-free nucleic acids for non-invasive pre-natal testing. He has published 20 peer-reviewed articles.
Abstract:
The analysis of circulating cell-free (cf) DNA from plasma, serum or urine has the potential to serve as non-invasive approach to detect and monitor targets associated with certain diseases. In 1997, the presence of fetal DNA in the plasma and serum of pregnant women was demonstrated. This opened new perspectives in field of non-invasive pre-natal diagnostics since the analysis of cell-free fetal (cff) DNA can provide information about pregnancy related disorders (pre-eclampsia, preterm labor), chromosomal aberrations (e.g. aneuploidies), and genetic disorders (e.g. cystic fibrosis, thalassaemia, Huntington's disease). We report on the development of an automated and integrated modular system for the isolation, amplification and detection of cffDNA from maternal plasma for non-invasive pre-natal diagnostics. The system consists of a first module for the cfDNA isolation from plasma based on silica-coated magnetic beads technology. Subsequently, the cfDNA obtained is introduced to a second module which is based on a polymeric microsystem containing a capillary electrophoresis step for the size separation of the fetal DNA from maternal DNA. Finally, the cffDNA is transferred to the amplification/detection module. This module consists of PCB (Printed Circuit Board) electrode arrays functionalized with surface immobilized primers for the multiplexed isothermal recombinase polymerase DNA amplification and electrochemical quantitative detection of specific genetic sequences. The developed technology is of generic and flexible nature allowing its facile modification to other targets of interest in clinical diagnostics and thus the developed platforms can also be exploited for analysis of circulating nucleic acids in oncology and multiple other disorders.

Biography:
Fouzi Mouffouk is an Associate Professor in Department of Chemistry at Kuwait University. His research activities are focused on the field of "Nanotechnology and biomedical (designing and fabricating self-assembled nanomaterials and their application in: medical imaging, regenerative medicine and biosensor technology and biosensors)". He completed his MS and PhD at University of Montpellier II France. After his PhD, he spent three years as a Research Scientist at Centre for BioArray Innovation, which is one of the four consortiums for Post Genome Sciences in UK and; he was responsible for the development of new biosensor devices. He was involved in many projects related to the development of nano-probes for cancer early detection using ultrasounds and MR imaging at Rush Hospital in Chicago, USA. After that, he was appointed as Senior Scientist at Argonne National Laboratory where he worked on a project called artificial life (or living technology) with NASA Institute of Astrobiology, to design and assess the performance of artificial genes that support the functionalities of these proto-cells (gene self-replication and gene implication in the proto-cell metabolism). After that, he was appointed as an Associate Professor at Institute for Biotechnology and Bioengineering Centre for Molecular and Structural Biomedicine, University of Algarve, Portugal.
Abstract:
Early cancer detection is a major factor in the reduction of mortality and cancer management cost, the development of new tools for this purpose is of great value. Since healthy and pathological tissues as well as distinct diseases show similar magnetic moments, they produce a poor image contrast. In order to get a better anatomical differentiation and improve sensitivity, contrast agents (CAs) are used. Here, we present the development of a smart and targeted polymeric nanoparticle-based contrast agent (CA) for magnetic resonance imaging, able to turn on its imaging capability in the presence of target cancer cells. The new CA consists of pH-sensitive polymeric micelles formed by self-assembly of a diblock copolymer (PEG-b-PTMSMA), loaded with a gadolinium (III) complex (tBuBipyGd) and explores the acidic pH in cancer tissues. In vitro and in vivo experiments have shown that the designed nanoparticles are indeed pH-sensitive, in that they remained intact in neutral pH and turned on its imaging ability upon disruption in an acidic microenvironment. This encapsulation procedure significantly reduced the tBuBipyGd complex cytotoxicity towards Jurkat and MCF-7 cell lines. The targeting ability of nanoparticles towards cancer cells was enhanced by conjugation with the C595 monoclonal antibody against the human MUC1 protein, which is often overexpressed in breast cancer. Indeed, nanoparticle uptake by MUC1-expressing cells was higher for targeted than for non-targeted micelles. In addition, the uptake of targeted micelles by MUC1-expressing cells was stronger than by MUC1-negative cells.
Collaborative Microelectronic Design Excellence Center (CEDEC), Malaysia

Biography:
Asrulnizam Abd Manaf is an Associate Professor, completed his PhD in Engineering in Department of Applied Physic and Physico Informatics at School of Fundamental Science and Technology, Keio University Japan in 2009. Since 2009, he has been a Senior Lecturer at Universiti Sains Malaysia. Then, he promoted to Associate Professor in 2015. He has authored and co-authored 60 international technical journal or conference papers. His current research interest includes "Development of bio-inspired based microfluidic based sensor, micro fluidic based memristor, micro fluidic based tuneable inductor, micro fluidic thermoelectric generator (mTEG, and micro 3-dimension fabrication technique by using grayscale technology".
Abstract:
Implementation of simple fluidic-based memristor sensor in bio-sensing application was presented. The sensor was fabricated using sol-gel spin coating technique and has nine wells functions to increase the conjugation area to trap virus. The sensor fabricated in four sizes wells diameter of 0.5 mm, 1 mm, 1.5 mm and 2 mm. The sensors were modified with anti-dengue virus NS1 glycoprotein monoclonal antibody before applied with dengue virus 1 virus NS1 glycoprotein full. Four concentration's dengue viruses of 52 nM, 104 nM, 208 nM and 416 nM prepared and applied to the modified sensor. The ability of the sensor in sensing dengue virus is measured using the off-on resistance ratio to represent the loop area. The results show that the loop area of the pinched hysteresis loop increase as the dengue virus applied to the modified sensor. The loop area also increases as the concentration of the dengue virus increases. The most obvious change in loop area observed for 416 nM dengue virus. The recorded sensitivity for the 2 mm wells diameter is 6.53×10-3 (nM)-1 which measured in fluidic-based platform. This concludes that the dengue virus produced reaction with the modified sensor and thus changes the sensors behaviors.
University of Bucharest, Romania

Biography:
Anton Alexandru Ciucu completed his MSc in 1979 in Department of Biochemistry, University of Bucharest. In 1987, he completed his PhD in Chemistry at Polytechnic Institute of Bucharest. Since 2000, he is a Professor of Analytical Biochemistry at University of Bucharest. He was a Visiting Professor at University of Louisville, Chemistry department, USA (1991-1992). He was the Vice-Director of the Center for Research and Development of Bio-analytical Techniques (1999-2007). Since 1980, his research interests include "The development of nanomaterial-based sensors, electrochemical biosensors, DNA biosensors, devices for environmental, security, and clinical monitoring". He has authored over 84 research papers, six books, and two patents and has presented more than 130 scientific communications, plenary lectures at different international conferences.
Abstract:
Biosensing is a field of interest for analytical chemists for more than 40 years, with excellent results in fields like environment, clinical and food analysis. The detection of DNA has a particular interest in genetics, pathology, criminology, pharmacogenetics and food safety. Biotechnology related to DNA immobilization on electroactive surfaces was used for the determination of a wide range of biomolecules. Nowadays carbon allotropes e.g., synthetic mono-crystalline diamond, fullerenes, and carbon nanotubes are among the most popular matrices for construction of biosensors, due to their unique electrochemical features, such as high electrical conductivity and catalyst support. Our efforts in this domain aim for the construction and characterization of different DNA based biosensors for detection of important (bio) molecules like neurotransmitters, DNA or gene sequences. In the medical field, the monitoring of the neurotransmitters in depressive patients represents a major demand focusing on the health state of the patients, with social and economic effects. High concentration levels of neurotransmitters in the human body were connected to different types of tumors, heart diseases and circulatory system diseases. We develop a novel assay for the electrochemical detection of guanine based on carbon nanotubes paste electrodes modified with cobalt phthalocyanine. We highlight some modern aspects of DNA biosensors based on carbonaceous materials used in amperometric sensing, a detection method which has already found a large number of applications in health care, food industry and environmental analysis. Some relevant applications of DNA based biosensors to real sample analysis of some important neurotransmitters and some possible future trends are presented. The advantages of short analysis time and combination with nanotechnology for increasing the sensitivity make the modified electrodes worthy of special emphasis in the non-labeled detection of DNA hybridization reaction and in the development of DNA based biosensors for toxins and pathogens determination.

Biography:
Abdulhakim Abamecha completed his Master's Degree in Medical Microbiology (Bacterial Drug Resistance) at College of Public Health and Medical Sciences, Jimma University in 2013. Currently, he is a PhD scholar in Tropical and Infectious Diseases and his thesis entitled "Molecular surveillance of K13-propeller gene polymorphisms and automated blood smear analysis for mobile malaria diagnosis using deep learning in Southwest Ethiopia" at Jimma University, Jimma, Ethiopia and academic Staff of Faculty of Public Health and Medical Sciences, Mettu University, Ethiopia. He is the author of several articles published in peer-reviewed journal.
Abstract:
Background & Aim: During last two decades, there has been a world-wide trend in increasing occurrence of enterococcal infections in the hospitals. Despite worldwide increasing rate of drug resistant enterococci colonization and infection among hospitalized patients, there is scarcity of data from resource limited setting. The present study aimed at determining the spectrum of enterococcal infections, species prevalence, antimicrobial resistance and characteristics of vancomycin resistant enterococci (VRE) in Mettu Referal Hospital, Southwestern, Ethiopia.
Materials & Methods: Between January 2015 and July 2015, Enterococcus species were obtained from clinical samples. Enterococci were identified using standard biochemical tests. Antimicrobial susceptibility was tested by Kirby-Bauer disk diffusion according to Clinical & Laboratory Standards Institute (CLSI) guidelines. VRE agar base was used to screen VRE isolates. Minimum inhibitory concentration (MIC) values of VRE isolates were determined using Epsilometer-test. VRE isolates were also examined by PCR to detect vanA gene.
Results: From 325 clinical samples, 40 (12.3%) enterococcal isolates were obtained. Most common species isolated was E. faecalis (72.6%) followed by E. faecium (26.7%). Majority of enterococcal infections were detected from medical and surgical wards and clinically presented as UTIs. Disk diffusion method showed 62.1% were resistant to penicillin, 59.5% ampicillin, 34.5% ciprofloxacin, 34.7% high-level gentamicin, 32.8% high-level streptomycin, 2.6% teicoplanin and none to linezolid. Three (7.5%) enterococcal isolates were vancomycin resistant in VRE screen and disk diffusion method. Epsilometer-test of VRE isolates showed two (5%) isolates were resistant and one (2.5%) was intermediately resistant. From three VRE isolates, two showed VanA and one VanB phenotypes and the two VanA phenotypes had vanA gene cluster.
Conclusion: This study reveals the emergence of vancomycin resistance enterococci strains. Thus, periodic surveillance of antibacterial susceptibilities is recommended to detect emerging resistance and to prevent the spread of antibacterial-resistant strains. Besides, more accurate and reliable MIC determination tests should be performed in all suspected VRE isolates. Confirmatory PCR is required for identifying resistant gene cluster.